August 20, 2019
Meet Richard Stack, a 27-year fire captain and member of North Attleboro, Massachusetts Local 1992. Stack struggled with post-traumatic stress disorder (PTSD) for years, becoming suicidal before seeking treatment at the IAFF Center of Excellence for Behavioral Health Treatment and Recovery for 45 days in October 2017. This is his story of recovery.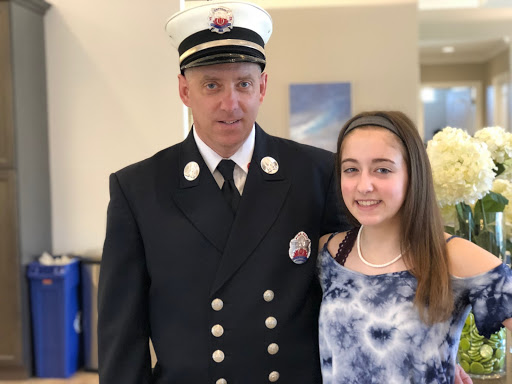 Stark credits his daughter, Madison, as a central to his recovery.
IAFF: How were your behavioral health problems interfering with your ability to function on and off the job?
Stack: I noticed I was having problems related to my PTSD at home with my family. I was always hypervigilant and was not able to turn off that common response of always waiting for the next crisis. I was constantly on guard 24/7. 
IAFF: When did you know that you absolutely needed to seek help?
Stack: I was quite surprised when greeted at my door by a group of fellow fire fighters and their spouses. My first thought was, "Oh, this can't be good." They sat me down and talked with me and shared that they were concerned for my safety. 
At that time, I was having overwhelming suicidal thoughts and thought I would be better off dead. I remember being treated in the local emergency room and hearing, "Rick, we believe you have PTSD."  I was in shock, thinking, "Yes I have heard of that for military personnel, but not me!" Even after I was officially diagnosed with job-related PTSD, it took me a long time for me to accept this diagnosis.
IAFF: What was it like to attend a treatment program exclusively for fire fighters?
Stack: I remember arriving on the Center of Excellence campus and was extremely nervous. The staff greeted me and introduced me to many other brother and sister fire fighters who were going through very similar issues. If I needed anything, they were there to just listen and talk. One of the counselors knew I was struggling mightily and made it a point to help me focus on my own issues. Dr. Abby Morris, the medical director, was always willing to speak with me, no matter how busy she was. Those encounters with the staff remain very special to me to this day.
IAFF: If you sought treatment before, what was different about your experience at the Center of Excellence?
Stack: At the Center of Excellence, I was with fellow fire fighters and staff who understood how I was feeling. During group sessions, I did not have to go into vivid detail about the incident because those around me had likely already lived it and it affected them as well. The Center of Excellence was the only place I felt surrounded by those who honestly got it, and that was a sense of relief for me, especially knowing that I was not all alone in this battle.
IAFF: What would you say to fire fighters reluctant to seek help for fear of being judged by others?
Stack: When I arrived at the Center, I was a fire lieutenant/paramedic. I came back to work and was soon promoted to fire captain. Getting treatment does not ruin your career; it can improve not only your work life but family life as well. The most important take-away message I learned throughout my treatment is strong people ask for help, while others hide behind their emotions. It is so easy to push away your emotions rather than to confront them head on. I later chose to retire, which was the right time and choice for me.
Stark with his service dog, Halligan.
IAFF: Since returning home from the Center, how have your crew members, family and friends responded to you?
Stack: Local 1992 has been a tremendous support throughout this struggle, which I am very grateful for. Most of my family have been very supportive, although some do not truly understand — another thing I struggle with. I have kept in touch with many fellow fire fighters I was in treatment with at the Center of Excellence. They have been a source of not only support but inspiration as well. I now understand my true friends will always be there for me.
IAFF: Has aftercare or outpatient treatment helped you stay on track?
Stack: There are three vital components that have helped me stay on track. Receiving monthly treatment and counseling, taking prescribed medicines and exercising. These have become staples in my life and play an important part in my recovery. I would be remiss not to say that being a dad and caring for my daughter, Madison, has been instrumental in my continued recovery as well.
I have also received a service dog, Halligan. He goes everywhere with me. I still sometimes struggle with PTSD symptoms. He can sense when I'm getting anxious. He will even wake me up. He really helps me.
IAFF: Is there anything else you want to share?
Stack: I participated in the Marine Corps Marathon through the IAFF Foundation. The last day of my treatment just happened to coincide with the marathon in Washington, D.C. The Center of Excellence staff dropped me off at the start line early in the morning and I was greeted by fellow brothers seeking treatment at the Center throughout the course. This has always meant a tremendous amount to me. I completed the marathon and hopped on a plane to return home the next day wearing my finisher medal. The first thing I remember doing is giving my medal to my daughter. After all, she has been the one constant love in my life, and I know she will always be helping me in my struggles.
If you or a brother or sister fire fighter struggle with PTSD, depression, suicidal thoughts or other behavioral health struggles, help is available. The IAFF Center of Excellence provides confidential, comprehensive treatment designed specifically for IAFF members. Call today to learn more about therapy and treatment options for mental health and addiction.