October 30, 2019
Cultural competence is the ability to understand, communicate with and effectively interact with people across different cultures. For a clinician or mental health provider, this means having a working understanding of the unique needs, experience and value system of the client in treatment.
Why is cultural competency training important for clinicians who treat fire fighters and emergency medical personnel?
Because the IAFF Center of Excellence for Behavioral Health Treatment and Recovery is a unique facility exclusively for IAFF members, it's critical that staff at the Center understand what fire fighters and emergency service personnel experience on a daily basis.  
IAFF Center of Excellence staff had that opportunity to experience what it takes to be a fire fighter as part of a FIRE OPS 101 event on October 25, 2019. The event was hosted by Washington, D.C. Local 36 and the District of Columbia Fire Department at the District of Columbia Fire and EMS Training Academy.  
The Center of Excellence's executive director, director of nursing and 11 mental health clinicians who work directly with IAFF members participated in the FIRE OPS 101 event. The program gives participants a greater understanding of the physical and emotional stress of the job, as well as the training, equipment and resources needed to safely and effectively save lives and protect property. The event featured five emergency response scenarios:
A structure fire

Ventilation, search and rescue

Vehicle extrication

Aerial ladder climb

Cardiac arrest
Experiential training, such as FIRE OPS 101, can give clinicians an edge in working with members of the fire service. Other opportunities, including fire station visits and ride-alongs also provide clinicians a critical window into an occupational culture that is entirely different from their own.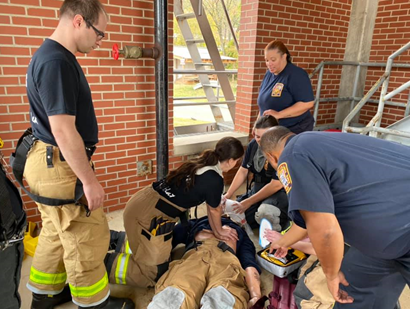 How can fire fighters and emergency service personnel find a local clinician that's a good fit?
Finding a local provider who is both culturally and clinically competent can be a challenge in some communities. If you are seeking an individual clinician for yourself or as a resource for your local, see the IAFF Guide to Finding a Good Clinician. 
When screening a clinician, it's critical to get answers to the following questions:
Do you have experience working with fire fighters or other emergency responders, including EMS, police or military populations? If so, tell me about it.

What evidence-based practices do you use to treat

post-traumatic stress disorder

,

depression

,

anxiety

and co-occurring

substance abuse

?

How many sessions does it typically take for you to complete your initial assessment?

Do you offer appointments within 24 hours or have access to an on-call clinician?

If an individual has a psychiatric emergency and needs inpatient care, what facility or hospital do you refer to?

Do you work closely with a prescriber for individuals who need medication?

Would you be willing to participate in experiential training to gain a better understanding of the daily experiences of fire service personnel?
The IAFF Center of Excellence for Behavioral Health Treatment and Recovery is a comprehensive treatment center designed exclusively for IAFF members struggling with addiction, PTSD and other co-occurring mental health problems.
If you are considering help for yourself or a loved one, call today for a confidential screening.
Lauren Kosc, LCPC is a behavioral health specialist, licensed clinician and blog writer for the International Association of Fire Fighters. If you are an IAFF member in recovery and want to share your story, contact [email protected].