August 12, 2019
Most birthdays are celebrated with a nice dinner or weekend getaway. For Richard Gallegos, an admissions coordinator for the
IAFF Center of Excellence for Behavioral Health Treatment and Recovery
, his 32nd birthday is an opportunity to challenge himself while giving back.
A former paramedic in recovery from addiction, Gallegos will spend the entirety of his birthday striving toward a personal goal he's titled Race 2 Recovery. Gallegos will run 100 miles in his Central Florida neighborhood to raise funds benefiting the
IAFF Foundation
for his brothers and sisters seeking
treatment at the IAFF Center of Excellence
.
As a seasoned endurance runner, Gallegos sees this self-proclaimed race as a reflection of his own life experience, as the run will present physical, mental and emotional struggles filled with immeasurable rewards.
A Heartfelt History
Before joining the IAFF Center of Excellence to help fire fighters and paramedics receive treatment for
substance use
and
behavioral health
conditions, Gallegos lived with his own addiction to prescription pain medication and alcohol.
"Substances took away emotional pain more than physical pain," Gallegos explains. He seemingly maintained a balanced work and home life while abusing substances, until he realized the negative impact of his drug and alcohol use. He finally sought treatment with the help of his department. Now six years in recovery, Gallegos uses physical activity to help work through past trauma and daily stressors, all while maintaining a healthier career and family life.
This will be Gallegos' second 100-mile run. His first was an organized race from
Key Largo to Key West
in May 2019. His birthday race will be an unsanctioned run around a 1.05-mile loop in his neighborhood. He will start the run on August 16 at 12:00 midnight and will be running until I complete the full 100 miles. "My running represents the struggle that I have overcome pertaining to my own mental health and substance abuse issues," says Gallegos. "Running this distance will completely break me down and give me the opportunity to rebuild myself and push forward over and over again. There are times during this distance that you hit incredibly low lows, but with perseverance and proper care and support from my crew, those lows can transform into the amazing highs."
A Reflection of Personal Challenges
Gallegos explains that this run is a metaphor for his fire and EMS brothers and sisters. "I want to illustrate that when you hit insurmountable lows, making adjustments,
asking for support
and persevering will help pull you out of that dark place. I remember a time that I was stuck in this deep dark place mentally, with no hope of pressing forward."
It is Gallegos' hope that this run inspires fire fighters, paramedics and EMTs to reach out and ask for help. "There's an absolute beauty in being completely broken and watching yourself bounce back and transform into something so much stronger."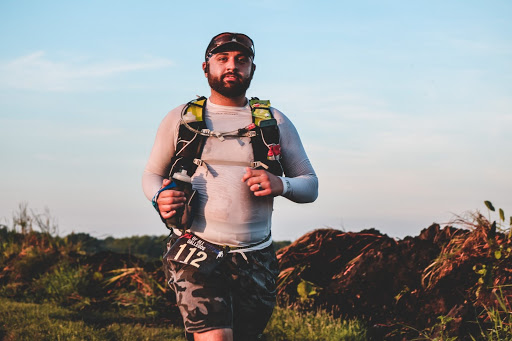 Up for the Challenge
Due to the extreme heat and humidity during Florida summers, Gallegos estimates the run will take approximately 30–32 hours.
"There will be plenty of struggles both physically and mentally during this run," he says. "The beauty is it also allows me plenty of opportunities to recalibrate and rise above adversities. My plan to overcome these obstacles is to monitor myself as much as possible and constantly take a mental inventory of how I'm doing, addressing any minor issues early before they become crippling issues. I'll stay in constant communication with my crew regarding what I need to remain in forward motion." His crew will include his wife, daughter and mother, who will be running the aid station set up on his front lawn. 
Supporting Others After Receiving Help
After working challenging calls as a paramedic, Gallegos became jaded, dark and cynical. "I started to have
compassion fatigue
and felt like I lost my purpose," he explains. "Between this and all the trauma and stress I was exposed to, I changed."
Once he
reached out and asked for help
, Gallegos realized he could get his quality of life back. "I started off just jumping through the hoops of getting help, but quickly realized that mental health treatment was not what I thought it was," he says. "Once I started seeing my life, relationships and personality restored, I knew I had to help the group that I hold so near and dear to my heart. I speak to struggling fire fighters and EMS workers every day and my only desire is that they find the peace that they so deeply deserve."
Gallegos' advice for anyone
who is looking to make a difference or accomplish a monumental personal or professional goal is to take it one step at a time. "Break the goal down into manageable steps and attack," he says. "Everyone is stronger than they think they are and can do more than they think they can. Also, accountability is key. Surround yourself with people who support and believe in you. Lastly, never stop taking a mental inventory of yourself. Constantly reevaluate and adjust as necessary."
A Personal Goal Rooted in Community 
Richard Gallegos' ambitious personal challenge is a reflection of the journey he's taken both personally and professionally. While long-distance running may seem like an individual sport, Gallegos has learned that extreme endurance challenges require outside help and support. With his family close by, Gallegos will be joined off and on throughout the day by friends, neighbors, coworkers and other supporters to provide motivation and solidarity. Whether he's practicing for a long-distance race or talking to an IAFF member about treatment, Gallegos says, "It's OK to ask for help."
Using running as an opportunity to start a dialogue about fire fighter mental health is Gallegos' ultimate goal. "If I can use my struggle to help one person gain the confidence to ask for help and realize that they too can persevere, then I'm doing my part," he says.
The Race 2 Recovery is Friday, August 16 on Gallegos' 32nd birthday. Support his mission to raise funds for IAFF members seeking treatment at the IAFF Center of Excellence with an
online donation
. The funds will help offset the costs of boarding fees and additional expenses not covered by insurance.
If you or an IAFF member you know is struggling with addiction or behavioral health condition, the IAFF Center of Excellence can help.
Call today
to speak with Richard Gallegos or one of his colleagues about the profound impact treatment can have on your health, family and career.