March 25, 2020
As we struggle to contain the spread of coronavirus (COVID-19), daily life has fundamentally changed for many families. If your children are having a difficult time coping during this time, your family is not alone.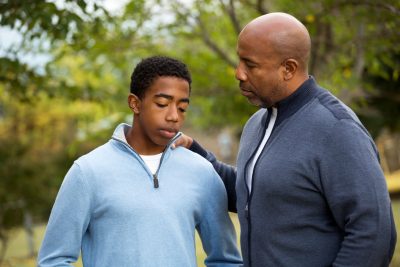 While children may understand the inherent risks of your job as a fire fighter, the threat of exposure to COVID-19 may trigger unique fears and anxiety for children. Parents, teachers and other trusted adults can help children understand COVID-19 by providing honest, accurate and timely information that minimizes anxiety. Consider the following strategies:
Explain COVID-19 based on your child's developmental level

. For younger kids, you might remind them of the last time they felt very sick, had a fever or a persistent cough. Explain COVID-19 is similar but has spread very quickly throughout communities and some adults are more likely to get sick than others. Emphasize that kids are the least likely to get sick from COVID-19, but still have an important role to play to prevent the spread of germs.

Ask children what they know already

. Pay attention to what your child has heard from friends, television or online. Take time to correct rumors and dispel misinformation. If he or she asks you something you don't know, acknowledge you don't have all the answers and redirect focus to what kids can control today.

Remain calm, reassuring and available to talk

. As a parent, you set the emotional tone for the family and how your kids will respond to these unprecedented times. Reassure your kids that they are currently safe and cared for and that you are available whenever they have questions. Empathize with any feelings of frustration, boredom or isolation your kids express while reminding them this is a temporary situation that will not last forever.

Routine is required

. Too much unstructured down time can create anxiety for children, teens and adults. Explain to your children that while school is closed, they will still have to follow a routine that includes predictable mealtimes, activity, outdoor play and bedtime. Take advantage of any suggested distance learning or homework your child's teachers have provided.

Avoid language that may blame others or lead to stigma

. Emphasize that fighting COVID-19 is everyone's responsibility. Remind kids that children in other countries are experiencing many of the same feelings and reactions.

Explain social distancing as temporary but necessary

. While staying home from school may seem exciting at first, several days of not seeing friends or playing sports will take a toll on some kids. Explain social distancing as a simple but effective strategy to prevent germs from jumping from one person to another. Emphasize this is a temporary situation.
Children of Fire Fighters May Need Extra Reassurance
For children of fire fighters and EMS personnel, convincing your children you are protected from COVID-19 can be complicated. Don't offer false realities or make promises you cannot keep. Instead, acknowledge your children's fears and the inherent risks of your job, while offering reassurance that you are doing everything possible to stay healthy and protect yourself from virus exposure on and off the job. Educate older children about some of the personal protective equipment (PPE) precautions and protocols in place to reduce your risk of exposure.
Empower Your Kids With Hand Hygiene
Talk to your children directly about doing their part to reduce the spread of germs in your home and neighborhood. Require your kids to practice common-sense precautions at home, including washing hands often for at least 20 seconds, covering their cough or sneezes and abiding by social distancing recommendations. Be vigilant about modeling these behaviors for your kids as well.
Lauren Kosc, M.A., LCPC is a behavioral health specialist, clinician and blog writer for the International Association of Fire Fighters. The IAFF Center of Excellence for Behavioral Health Treatment and Recovery is a residential behavioral health treatment center for IAFF members struggling with addiction, post-traumatic stress disorder (PTSD) and other co-occurring mental health problems.