July 13, 2017
It's no secret that marriage is hard. Throw in a house to manage, a couple of kids and a spouse who is a fire fighter and it becomes even more challenging. But just because it's difficult doesn't mean that it's not worth fighting for.
As a fire fighter/paramedic, your spouse is at an increased risk of post-traumatic stress disorder (PTSD) and other behavioral health issues. From binge drinking to drug abuse, fire fighters are susceptible to a variety of addictions and substance use disorders.
Maybe your spouse shows subtle signs of PTSD. Maybe your spouse is drinking more than usual. Whatever the change may be, it's important to remember that marital issues can often result from undetected or unresolved mental, physical or emotional trials. It can be difficult to stand by and watch your fire fighter struggle, especially when it directly impacts you and your family.
And while the burden is not solely on you to protect your spouse, there are several things you can do to help and encourage your fire fighter spouse.
Honor Your Family's "Normal"
It can be difficult to balance a fire fighter's schedule, with 24-hour shifts and irregular sleep schedules. But embracing the lifestyle, instead of constantly comparing it to the typical work schedule, can be a first step toward creating a healthy balance.
There's no denying that it can be difficult for your spouse to attend soccer games, make time for social engagements with friends or even take a weekly exercise class or go to church. It may even be a challenge to have a 15-minute conversation about the kids' camp schedules or the upcoming visit from the in-laws. But instead of fighting it, come up with a system that works.
Use technology to your advantage: Healthy communication can take place through text or any number of messaging apps. Sending snaps with updates on the kids, emojis to express how much you miss each other or quick reminders of what's ahead can be an easy way to keep the lines of communication open.
Set a date: Make your relationship a priority by setting aside a specific time for the two of you. Once you both know your schedules, planning a date night (or day) can be a fun way to have something to look forward to, whether it be a picnic in the park, a Netflix night at home or dinner out on the town.
Take advantage of unique hours: Having a different schedule isn't all bad. Tuesday morning can be a convenient time for grocery shopping, while working long shifts offers several days off in a row. Having this additional free time is a great way to get more done around the house and spend more time together.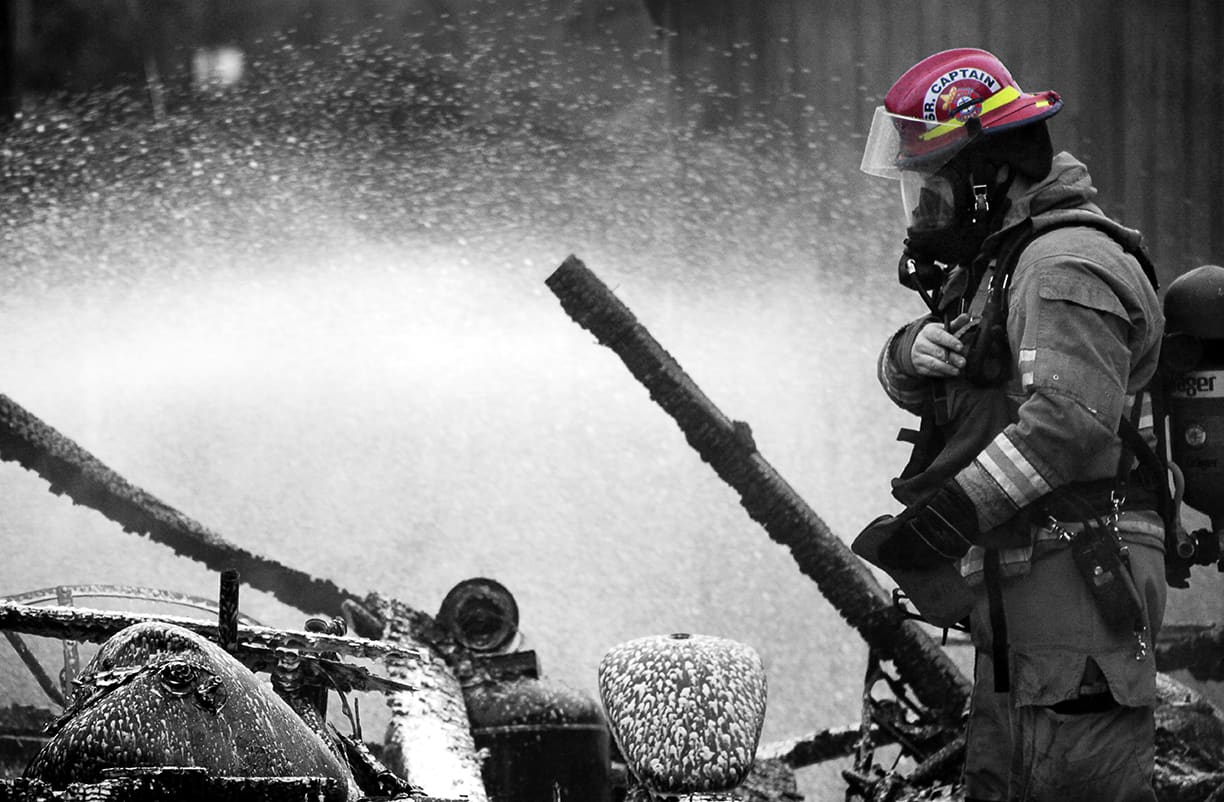 Understanding, Not Enabling
For some, the challenges of being a fire fighter's spouse extend beyond juggling complex schedules and finding ways to communicate. Because substance abuse and mental health issues are so prevalent, it's important to keep an eye out for the signs and symptoms of both.
Extreme changes in mood or behavior, frequent nightmares and physical reactions and distress are all signs of PTSD. Excessive sniffing or a runny nose, significant changes in eating habits, dilated pupils or red eyes, and irritability and defensiveness are just some of the symptoms of substance abuse. Being aware of the warning signs of substance abuse and other co-occurring disorders is the first step to helping your significant other overcome such a struggle.
If you've assessed the situation and believe your partner may be suffering from substance abuse, it's equally important to be supportive without enabling. There are ways to help your spouse without unknowingly encouraging or prolonging their drug or alcohol abuse:
Don't make excuses: If your spouse can't function because of drug use, don't be the one to defend their actions. You can advocate for them without lying or perpetuating the problem. Instead, reassure your spouse that you are there to help with treatment, but won't be the one to help them cover it up. When you compassionately love your spouse, it can be easy to rationalize their actions because of their job. But a better way to sympathize is to understand that your fire fighter spouse has a uniquely challenging career that can be emotionally managed with healthy alternatives to substances.
Hold them accountable: Allowing your spouse to see the influence their actions have — whether it be a nightstand littered with bottles or a living room filled with misplaced items — can help them realize that the situation may be beyond their control. While you may feel like you are helping take care of your husband or wife by constantly cleaning up after them, it can too easily wipe away the physical consequences that they may need to understand the depth of the problem.
No need to pick up the slack: If your spouse is unable to perform duties that they would normally do, such as cooking, cleaning or balancing the checkbook, you may feel like you have to keep up before everything falls apart. But just like cleaning up after someone struggling with substance abuse, taking over all of their responsibilities puts an extra burden on you while allowing them to ignore life's realities. Remind your spouse of their commitments to family and the household instead of picking up where they left off.
Know When to Seek Help
A fire fighter's role in the home and at the station is a dynamic mix of responsibilities and care. With so much invested in both locales, some may turn to alcohol, drugs or other substances to manage, especially when there are underlying issues such as anxiety or depression. If your spouse is experiencing any of the following, it may be time to reach out for help:
A dependence on alcohol or other substances that inhibits daily functions or keeps your spouse from performing normal household responsibilities
Using drugs or alcohol to cope with anxiety, depression or PTSD
Excessive spending on substances, allowing other financial responsibilities to slip
Drugs or alcohol become a priority over other once-important activities
Failure to follow through on attempts to abstain from drugs or alcohol
As a fire fighter's spouse, you may also carry a burden in understanding and managing your spouse's substance use. Remember that it is not your fault, but there are things you can do to help, such as encouraging your husband or wife to seek treatment. The IAFF Center of Excellence for Behavioral Health Treatment and Recovery can help. The only facility of its kind, this treatment center has a team of experts who understand the life of a fire fighter and the unique needs of IAFF members.
Call 877-837-4346 to speak with a specialist who can help you navigate the complexities of addiction and mental health.
Things to keep in mind when calling the IAFF Center of Excellence:
Phone calls are non-obligatory: Once you call, you and your spouse have no commitment to take next steps. Coordinators are available to lend an ear and provide you with additional information and resources on substance abuse and mental health care.
Calling will not result in punitive action at work: Whether you choose to remain anonymous or not, all phone calls are private, and reaching out will not result in any reprimands at work. Although there is often a stigma associated with mental health in the field, it is important to take care of yourself and your spouse. The IAFF recognizes the need for health and treatment.
Your call is confidential: We respect and value your privacy and understand the sensitive nature of substance abuse and mental health issues. Whether you are seeking treatment for a spouse or just calling to learn more, your information is always protected.
If you ever feel overwhelmed or alone, you can always call the IAFF Center of Excellence hotline to speak to a caring representative who can provide you with guidance. By standing alongside your spouse in solidarity, you can work together to overcome the unique challenges that fire fighters face.
Medical Disclaimer: The IAFF Center of Excellence aims to improve the quality of life for people struggling with a substance use or mental health disorder with fact-based content about the nature of behavioral health conditions, treatment options and their related outcomes. We publish material that is researched, cited, edited and reviewed by licensed medical professionals. The information we provide is not intended to be a substitute for professional medical advice, diagnosis or treatment. It should not be used in place of the advice of your physician or other qualified healthcare provider.