July 6, 2020
In the current economic climate, fire departments unfortunately may face cuts in funding, leading to layoffs and furloughs. For most fire service personnel, firefighting is deeply tied to their sense of identity, purpose and survival.
In today's uncertain economy, supporting the behavioral health needs of fire fighters requires a proactive approach from both labor and management. 
What can fire service leaders do today to support the behavioral health needs of members who may be impacted by job loss and insecurity tomorrow?
Contact your department or IAFF local's peer team, wellness committee, department behavioral health staff and/or EAP today on the projected impact of a national economic recession on your department, including the possibility of layoffs, furlough, pay freezes and forced retirement. Encourage these entities to start developing an action plan to emotionally support those impacted in the future.

Encourage your peer team leader or wellness committee leader to educate their team on

common reactions to job loss

. Peer teams and wellness committees should familiarize themselves with any local financial resources or assistance that may be available to laid-off fire fighters.

Identify who in your local or department would be willing to host a support group focused on job loss/insecurity. The goal is to unite members in a supportive space who are facing a common challenge. The group could be hosted in-person or online and facilitated by your peer team clinician, department behavioral health specialist, peer team leader or wellness committee chair.

Assemble a list of any mental health services (both in-person and telehealth) that members can use in the event they lose their health insurance. Contact your local health and human services department to learn more about mental health resources for uninsured residents. Also, see "Free Telemental Health Services" listed under IAFF COVID-19

Behavioral Health Resources

.

If a brother or sister is laid off, consider the impact on morale and motivation for those members who remain employed. Members may experience a range of reactions, including anger, anxiety, guilt or mistrust for the department or local. Use the outreach strategies explored in this article to protectively address the

behavioral health needs

of impacted members.
For the latest updates, behavioral health resources and IAFF guidelines for responding to COVID-19, visit
www.iaff.org/coronavirus
.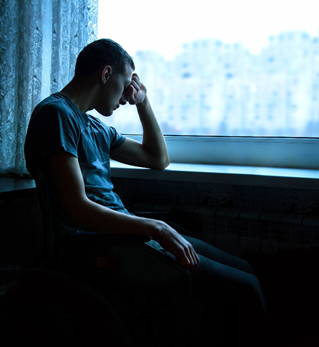 When Help Is Needed
IAFF members are doing their best to serve their communities and support their families during incredibly stressful times. For members who need mental health or substance abuse treatment, the
IAFF Center of Excellence
for Behavioral Health Treatment and Recovery can help.
The Center accepts most private insurances and will work with uninsured members to establish a reasonable monthly payment plan. While continuously adapting patient screening, contact precautions and isolation protocols as recommended by the Centers for Disease Control and Prevention (CDC), the Center remains open to serve those who need it most.
Written by: Lauren Kosc, LCPC, is a behavioral health specialist, licensed mental health clinician and blog writer for the International Association of Fire Fighters
.