November 7, 2019
Firefighting is a rewarding career, but not an easy one. In 2019, firefighting was ranked as the second-most stressful job in the United States. Because of the nature of the profession, fire fighters are more susceptible to post-traumatic stress disorder (PTSD) and other mental health conditions than the general population.
But the stigma associated with asking for help has prevented many fire fighters from seeking treatment.
Recognizing the growing need to address behavioral health issues, increase awareness and provide support and resources to members suffering in silence, in 2017 the IAFF established the first-of-its-kind Center of Excellence for Behavioral Health Treatment and Recovery exclusively for IAFF members. Designed to address the unique medical, psychological and interpersonal needs of fire fighters facing behavioral health crises, the Center is a safe place where IAFF members can step away from their daily life and get help and support from their brothers and sisters in the fire service.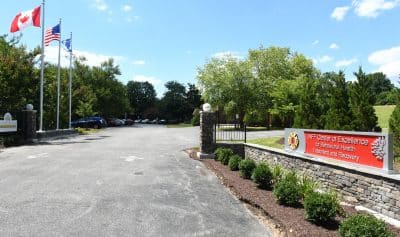 Developed in partnership with Advanced Recovery Systems (ARS), an integrated behavioral healthcare management company, the Center of Excellence is a 64-bed residential treatment center located 45 minutes outside Washington, DC.
Since opening in March 2017, the Center of Excellence has treated more than 1,000 IAFF members. Their stories can help inspire others to grow by seeking help and treatment.
Eric Fessenden / Montgomery County, MD Local 1664
"I say to anyone who is reluctant that there is nothing to be ashamed of. I believe that any judgment would be a positive judgment. Being afraid is understandable, but I promise that getting help will

change your life

and you will be happy again.

"
More than half of patients admitted to the Center of Excellence screen positively for PTSD, but other commonly treated conditions include a primary substance use disorder, major depressive disorder, complicated grief, social anxiety disorder, obsessive-compulsive personality disorder, and other compulsive behaviors.
Richard Stack / North Attleboro, MA Local 1992
"The Center of Excellence was the only place I felt surrounded by those who honestly got it, and that was a sense of relief for me, especially knowing that I was

not all alone in this battle

."
While fire fighters function as a highly cohesive unit on the job, off the job, fire fighters are a clinically diverse population that requires a variety of treatment approaches to address occupational trauma, co-occurring addiction and other complex behavioral health problems. Staff at the Center of Excellence understand the cumulative impact of occupational trauma, as well as the clinical implications of the fire service culture and lifestyle. Individual treatment plans are designed to restore fire fighters to their career, community and family.
Chad Jenkins / Marion, IN Local 676
"The combination of the staff and being at the Center with fellow fire fighters are vital parts of the recovery and learning process. I can say without a doubt that the Center of Excellence saved me and taught me how to live life correctly with compassion, forgiveness, thanks and love."
The average length of stay at the Center of Excellence is four weeks, though treatment times vary based on individual clinical needs, insurance coverage and other factors. Patients also receive an individually designed aftercare treatment plan, as well as telephone outreach and aftercare monitoring for 18 months after discharge.
If you are considering help for yourself or a loved one, call the IAFF Center of Excellence today for a no-obligation, free and confidential screening.
Lauren Kosc, LCPC is a behavioral health specialist, licensed clinician and blog writer for the International Association of Fire Fighters. If you are an IAFF member in recovery and want to share your story, contact [email protected].
Sources:
Renzulli, Kerri Ann. "The most stressful job in America pays $26,802—here are the other 9." CNBC, March 7, 2019. Accessed November 6, 2019.