February 13, 2020
The fire service has evolved to identify behavioral health as an essential component of occupational health. Today, more than ever before, departments place greater emphasis on an individual's responsibility to take care of their mental and emotional health. Likewise, what role does the organization play to support the behavioral health of its members?  Consider what mechanisms exist in your organization.
1. Provide Behavioral Health Education
Due to the stressful nature of the job, fire fighters are at greater risk to develop behavioral health problems, such as substance disorder, post-traumatic stress disorder, and depression. By educating your members on the behavioral health risks of the job, they may be more likely to recognize warning signs and address problems before they interfere with work and home.
2. Establish  a Peer Support Program
Trained peer supporters are trusted members of the fire service who are selected from all ranks and positions. Trained peer supporters provide education, individualized support, short-term crisis intervention, and necessary referrals.  A peer support program is not meant to replace professional assistance, but to provide short-term support and serve as a bridge to appropriate professionals. Learn more about peer support training.
3. Offer Comprehensive Behavioral Health Insurance Coverage
While some members will never need or use behavioral health treatment, others will. If an organization's health insurance plan doesn't cover basic behavioral health services, such as individual and family counseling, substance abuse treatment, detox and brief inpatient care, departments are encouraged to shop around. Without adequate coverage and access to treatment, mild and moderate behavioral health problems can escalate into chronic health conditions.
4. Conduct Periodic Behavioral Health Screening
Whether included in an annual physical or as a separate intervention, behavioral health screening is a simple, cost-effective and validated means to identify specific behavioral health problems that may need further assessment by a mental health professional (such as post-traumatic stress disorder, alcohol disorder, depression, etc.). Screening is not a diagnostic assessment or mental health evaluation but can identify members who may need an evaluation.   
5. Provide Post-incident Response
Different than an after-action critique, a post-incident response focuses on helping members deal with the potential emotional fallout following a traumatic call or event.  Response teams can play a variety of roles, to include psychoeducation, on-scene support services, peer support, small or large group interventions, crisis intervention and follow-up and referral.
6. Offer Chaplain Services
Fire department chaplains often assist fire service personnel and their families in times of crisis. Chaplains provide valuable guidance to individuals who need emotional or spiritual support. Effective chaplains often use a non-denominational approach and promote a culture of religious tolerance and acceptance.
7. Conduct Family Outreach
Organizations that provide support to spouses, children and other family members create strong allies to help monitor the health and wellness department members. If a fire fighter is struggling emotionally, family members are often the first to notice and feel the impact. Periodic in-service events, social gatherings and regular communication to family members are great ways to the keep families connected and cared for.
8. Promote Retiree Inclusion
Especially in the fire service, retirement brings a complicated mix of emotional, social and financial transitions to overcome. A monthly support group, potluck dinner or peer support outreach are simple ways to keep retirees engaged. Organizations that find a way to regularly engage their retirees truly fulfill the fire service promise of taking care of our own.
9. Have Fitness and Nutrition Programming
To protect and promote the behavioral health of fire fighters, it's essential that organizations address the basic connection between daily and long-term stress, physical activity and diet. On-duty exercise, access to individual fitness training and nutrition support can play a critical role in building healthy outlets for fire fighters to manage stress both on and off the job.
10. Department-Wide Resiliency Training
While behavioral health education focuses on teaching members about specific behavioral health risks and conditions, resiliency training is a proactive approach to overall wellness training that is appropriate at all levels of an organization. Learn more about the IAFF Resiliency Training Program.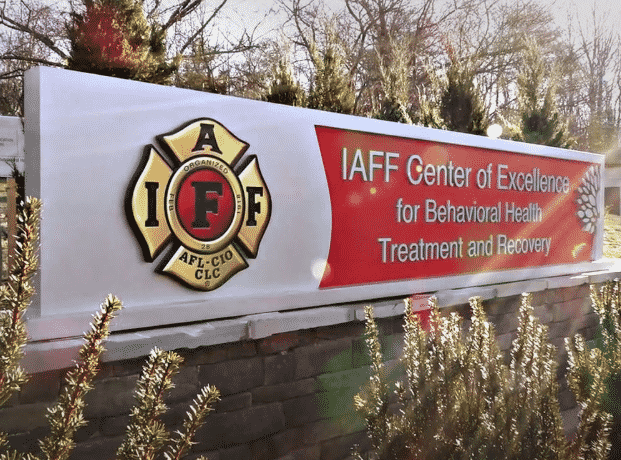 When Treatment Is Needed
The IAFF Center of Excellence for Behavioral Health Treatment and Recovery is treatment center designed exclusively for IAFF members to seek treatment for a variety of conditions, including addiction, PTSD, depression, and other co-occurring mental health problems. Call today to learn more.
Lauren Kosc, M.A., LCPC is a behavioral health specialist, clinician and blog writer for the International Association of Fire Fighters. If you are an IAFF member in recovery and want to share your story, contact [email protected].